Hi



Save your dog's life with dog first aid!

Whether you're new to dog ownership, or a long-time friend; have a puppy, or care for a senior dog; own a purebred, or a cross from the rescue center; regardless of your situation, your dog is precious to you.

You want only the best for your dog, just like you want the best for every member of your family. This newsletter has the Dog Information and resources you need to give your dog the best -- the best of health, the best of safety, the best of lifelong well being.

With some prevention and some planning, you can keep your dog healthy and safe, for years to come.

If you find this newsletter useful, please do a friend and us a big favor and "pay it forward." Forward this issue to all the dog lovers you know. Dogs everywhere will thank you for it!

If a friend passed this issue along to you, and you like what you read, please subscribe by visiting...

Dog First Aid 101

You and your dog will both be glad you did.
---
I need your help.
I have a page on the website that is for my readers to tell their dog story. My hope was to have people tell their story so it might help someone else with the same problem. But lately there has not been any activity on this page. Could you please look at this page and contribute something if you can.
Thank You
Click here to share your dog story
Table of Contents
Interesting Dog Facts that You Might or Might not know.
---
The following are some Facts about Dogs.
Do you know the answers?
Lots of dog lovers THINK they know everything about dogs.
But it often seems that the more you know - the more you realize you don't know.
Dogs are marvelous creatures but they can be "complicated" creatures, too.
Dogs are unique in so many wonderful ways, and the more you learn about your dog, the better prepared you will be to be a good pet parent.
Do you think you are pretty knowledgeable when it comes to the facts about dogs?
Well, let's find out.
For example - do you know the answers to these questions?
1. How many bones do dogs have in their body?
2. Can dogs be sunburned?

3. What is the average lifespan of a small breed dog?

4. What is the average lifespan of a large breed dog?

5. What is the normal temperature of a dog?

6. What is the normal heart rate of a dog and how does that compare to a human heart rate?

7. How many vocal sounds can a dog make and how does that compare to a cat?

8. How old was the oldest living dog?

9. How does a dog's sense of smell compare to ours?

10. Of all the dog senses, which one does he trust least?

11. Can dogs see in color?
12. How does a dog's sense of taste compare to ours?

13. What percentage of dogs are thought to be obese in the United States?
You Can Find The Answers Here - Take A Look
It's A Dog's Life - YOUR Dog's!
---
Who else wants their dog to be well behaved around people and other dogs?

AND have them obey all of your house rules...... even when you're not around!

If your answer is "Me!" then read this free ebook because you're about to discover how to put an end to your dog's behavior problems once and for all using proven techniques that give you immediate results...
---
A Free How To Guide to help you take better care of your Dog's coat and skin The Official Dog Coat & Skin Care Guide
---
---
Tips to Save YOU money...
1. Trimming your dog's nails and grooming his or her fur at home saves money spent on professional groomers.
2. Practice good dental hygiene. Daily brushing of your dog's teeth has significant returns.
3. Don't skip vaccinations or flea and tick prevention . Vaccines protect pets from painful and tragic diseases such as rabies, and fleas and ticks carry harmful diseases such as the plague that may also be spread to people in contact with pets.
4. Buy fewer toys , and trick pets into thinking those toys are new, time and time again.
5. Be creative with ways to make toys more interactive. Consider buying Buster Cubes or Kong toys for dogs to give them more stimulation while they eat or enjoy treats.
I hope these tips help your budget and most importantly the health and happiness of your dog.
One additional tip on the list is to consider pet insurance. It is one that I firmly believe in as well. For those on a budget, it can really allow you to do the best for your dog when you need it most.
Pet insurance dramatically reduces the costs of large veterinary bills, ranging from emergency care after an accident and cancer treatment to preventative check-ups and care including vaccinations.
Take a minute now and get a free quote.
---
10% off Your First Order at Just4Pooches.com > Use Code: J4P10
---
Total Pet Supply is one of today's most trusted online pet stores and is available to assist you day and night, 365 days a year!
They understand that caring for your pet companion can be expensive and want to help you receive quality products that your pet needs, at the best price, all year round. That is why they supply a variety of over-the-counter pet products at the most affordable prices.
---
Wouldn't You Rather Learn How to Deal with Minor Dog Health Problems BEFORE they Become Major Ones?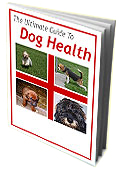 Ultimate Guide to Dog Health
---
Just added a New page that you can use to send

Free Ecards to all of your friends.

---
Also don't forget about

Free Dog Coloring Book and Other Free Stuff at Dog First Aid 101

---
Please consult the following website if you require further assistance, help, advice or if you have any questions relating to pet first aid.
---
If you want to make a website like Dog-First-Aid-101 take a look at this video it will show you how. Video of the day


---
Comments? Ideas? Feedback?
We want to hear from you with your complaints, compliments or suggestions. That's the only way we can make It's A Dog's Life YOUR Dog's! more useful for you.
Have something to tell us? Click on Reply in the menu and tell us what you think!
---