Hi



Save your dog's life with dog first aid!

Whether you're new to dog ownership, or a long-time friend; have a puppy, or care for a senior dog; own a purebred, or a cross from the rescue center; regardless of your situation, your dog is precious to you.

You want only the best for your dog, just like you want the best for every member of your family. This newsletter has the Dog Information and resources you need to give your dog the best -- the best of health, the best of safety, the best of lifelong well being.

With some prevention and some planning, you can keep your dog healthy and safe, for years to come.

If you find this newsletter useful, please do a friend and us a big favor and "pay it forward." Forward this issue to all the dog lovers you know. Dogs everywhere will thank you for it!

If a friend passed this issue along to you, and you like what you read, please subscribe by visiting...

Dog First Aid 101

You and your dog will both be glad you did.
---
I need your help.
I have a page on the website that is for my readers to tell their dog story. My hope was to have people tell their story so it might help someone else with the same problem. But lately there has not been any activity on this page. Could you please look at this page and contribute something if you can.
Thank You
Click here to share your dog story
Table of Contents
Dog House Training or House Training a Dog.
---
House training your dog is one of the areas of dog ownership that's most subject to misunderstanding, confusion, and some people just plain dread!

This months newsletter is going to deal with two of the most common problems surrounding the issue of house training:

- Submissive/excited urination and Scent marking

Common house training problem #1: Submissive / excited urination

What is it?

A submissive urinator is a dog that urinates on the floor and himself (and sometimes on you and any guests you may have!) in situations of extreme excitement or stress - like when you return home at the end of the day.

Why does it happen?

Puppies are the usual candidates for submissive/excited urination, but it's not uncommon to see adult dogs with the problem as well: usually, these are highly sensitive and timid dogs, and/or ones from a shelter/with a history of abuse (often these last two go hand-in-hand.)

When does it happen?

Situations when an excited/fearful dog is likely to urinate: - Greeting time after a prolonged absence - Play time - The arrival of guests - Stressful situations at home, eg arguments - During a correction - Sudden loud noises (thunder, fireworks)

What can I do about it?

First of all, you should take him to the vet to make sure there's no medical reason for the issue (like diabetes or a bladder infection.)

Next, it's time to take control of the problem:

- Limit his intake of water to help him control his bladder more effectively. For example, you have guests coming over, or are planning on a play session soon take his water bowl away for a period of time (maybe half an hour to an hour) before the event.

- When greeting your dog, keep it calm and mellow. The more excited he is, the harder it is for him to control his bladder.

- It's important that you DO NOT punish or harshly correct your dog for this behavior. It's not something that he can easily control, and he's certainly not doing it on purpose.

- If he urinates out of fear (submissiveness) when scolding him for another offense, try to take the stress levels down a notch by keeping a firm, authoritative, but not angry tone.

Common house training problem #2: Scent marking

Scent marking - where a dog "marks" his or her territory with urine it is technically not actually a house training problem, since it's based on issues of dominance and territoriality rather than insufficient house training (a dog can be perfectly house trained but still mark inside the house.)

Scent marking and lack of house training: how to differentiate between the two

Your dog's probably scent marking, rather than genuinely relieving himself, if:

- The amount of urine produced is relatively small, and tends to be directed against vertical surfaces (walls, doors, etc)

- He's male, unneutered, and at least five or six months old. Unneutered dogs are much more territorial than neutered ones if you have an unneutered dog in the house, you can pretty much expect a certain amount of scent marking. (Unspayed females also mark, but it's less common; spayed and neutered dogs can also exhibit marking behavior, but it's relatively infrequent)

- It makes little difference how often he's taken outside for a toilet break

- He frequently targets items that are new to the house: new possessions, guest clothing/footwear, etc

What to do about the problem?

First things first: spay or neuter your dog(s) as soon as you possibly can. If you can do this early enough ideally, at six months of age - this often halts marking altogether; but if your dog's been marking for a prolonged period of time, he or she may continue to do so after being spayed or neutered, since a pattern of behavior will have been established.

Clean soiled areas thoroughly. Use a non-ammonia based cleaner (because it smells just like pee) and stay away from vinegar too (it smells similar to pee.) Oxi-Clean mixed with warm water is particularly effective; there are also plenty of commercial cleaners designed specifically to lift pet stains and odors, which you can buy from pet stores and some supermarkets.

Because dogs tend to re-mark the same places, you'll need to redefine the places that you know he's marked to prevent repeat offending.

You can do this in a number of ways:

- Feed him next to or on top of the spot - Play with him there - Groom him there - Put his bed over or next to it - Spend time there yourself: hang out with a book or sit down and work

For more information on how to successfully house train your dog (as well as a whole bunch of in-depth information on house training troubleshooting and related issues) you'll probably want to check out The Ultimate House Training Guide site by clicking this link!

It's A Dog's Life - YOUR Dog's!
---
Who else wants their dog to be well behaved around people and other dogs?

AND have them obey all of your house rules...... even when you're not around!

If your answer is "Me!" then read this free ebook because you're about to discover how to put an end to your dog's behavior problems once and for all using proven techniques that give you immediate results...
---
Dog Calorie Calculator by TrainPetDog
---
---
1. Trimming your dog's nails and grooming his or her fur at home saves money spent on professional groomers.
2. Practice good dental hygiene. Daily brushing of your dog's teeth has significant returns.
3. Don't skip vaccinations or flea and tick prevention . Vaccines protect pets from painful and tragic diseases such as rabies, and fleas and ticks carry harmful diseases such as the plague that may also be spread to people in contact with pets.
4. Buy fewer toys , and trick pets into thinking those toys are new, time and time again.
5. Be creative with ways to make toys more interactive. Consider buying Buster Cubes or Kong toys for dogs to give them more stimulation while they eat or enjoy treats.
I hope these tips help your budget and most importantly the health and happiness of your dog.
One additional tip on the list is to consider pet insurance. It is one that I firmly believe in as well. For those on a budget, it can really allow you to do the best for your dog when you need it most.
Pet insurance dramatically reduces the costs of large veterinary bills, ranging from emergency care after an accident and cancer treatment to preventative check-ups and care including vaccinations.
Take a minute now and get a free quote.
---
10% off Your First Order at Just4Pooches.com > Use Code: J4P10
---
Total Pet Supply is one of today's most trusted online pet stores and is available to assist you day and night, 365 days a year!
They understand that caring for your pet companion can be expensive and want to help you receive quality products that your pet needs, at the best price, all year round. That is why they supply a variety of over-the-counter pet products at the most affordable prices.
---
Wouldn't You Rather Learn How to Deal with Minor Dog Health Problems BEFORE they Become Major Ones?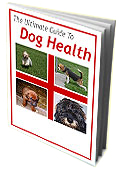 Ultimate Guide to Dog Health
---
Just added a New page that you can use to send

Free Ecards to all of your friends.

---
Also don't forget about

Free Dog Coloring Book and Other Free Stuff at Dog First Aid 101

---
Please consult the following website if you require further assistance, help, advice or if you have any questions relating to pet first aid.
---
If you want to make a website like Dog-First-Aid-101 take a look at this video it will show you how. Video of the day


---
Comments? Ideas? Feedback?
We want to hear from you with your complaints, compliments or suggestions. That's the only way we can make It's A Dog's Life YOUR Dog's! more useful for you.
Have something to tell us? Click on Reply in the menu and tell us what you think!
---