Hi



Save your dog's life with dog first aid!

Whether you're new to dog ownership, or a long-time friend; have a puppy, or care for a senior dog; own a purebred, or a cross from the rescue center; regardless of your situation, your dog is precious to you.

You want only the best for your dog, just like you want the best for every member of your family. This newsletter has the Dog Information and resources you need to give your dog the best -- the best of health, the best of safety, the best of lifelong well being.

With some prevention and some planning, you can keep your dog healthy and safe, for years to come.

If you find this newsletter useful, please do a friend and us a big favor and "pay it forward." Forward this issue to all the dog lovers you know. Dogs everywhere will thank you for it!

If a friend passed this issue along to you, and you like what you read, please subscribe by visiting...

Dog First Aid 101

You and your dog will both be glad you did.
---
I need your help.
I have a page on the website that is for my readers to tell their dog story. My hope was to have people tell their story so it might help someone else with the same problem. But lately there has not been any activity on this page. Could you please look at this page and contribute something if you can.
Thank You
Click here to share your dog story
Table of Contents
Your Dog Is Talking To You - Are You Listening?
---
Dogs actually have the ability to signal to us precisely how they are feeling at any given time. If we are attuned to their signs we will know what their emotional state is.

Dogs can display various emotions including: happiness, sadness, boredom, excitement, and fear.

If you closely watch your dog you will notice that his eyes, ears, body, and tail are in an almost continuous, though subtle movement. This is his way of communicating his emotional feelings.

Studies are confirming the fact that animals use a very inconspicuous and refined system of communication. The good news is that with a little effort we can learn to understand our domesticated dogs.

There are some basic things you can look for but like everything else, not every dog follows the same pattern as the others. Here are a few typical guidelines to get you started.

Dogs use their tails to signal that they are happy or afraid. If their tail is wagging they are happy. If it is tucked down they are showing fear and submission. When their tail is proudly held high they are feeling good about themselves.

Ears are also very telling when it comes to signaling emotions. Dogs sometimes perk their ears in an adorable quizzical fashion as if to ask a question. They may also tilt their head to the side when puzzled. The ears may be held in a backward direction against the head when the dog is angry.

As you become increasingly skilled at reading your Dogs emotional language or identifying his moods, your bond with him will deepen and grow even stronger.

Many professionals that have lots of experience in working with dogs have developed the ability to read canine language very well. This is true of dog behaviorists, Dog Trainers, veterinarians, groomers, breeders, and even life-long dog owners.

It seems that dogs are able to recognize and appreciate when you correctly read their emotional language. Perhaps this is why dogs seem to automatically like certain individuals. Maybe the dog immediately recognizes when a person understands him.

It's A Dog's Life - YOUR Dog's!
---
---
This store is the Only Natural Pet Store
---
---
Dog Trivia
An adult dog has 42 teeth and dogs don't have an appendix. ♦ The largest dogs among all breeds, at least in terms of height, is the Irish Wolfhound. ♦ The top five favorite breeds in the United States are: Labrador Retriever, Golden Retriever, German Shepherd, Beagle and Dachshund. ♦ Rin Tin Tin was the first American dog movie star and signed his own contract for 22 movies with a pawprint.
---
Total Pet Supply is one of today's most trusted online pet stores and is available to assist you day and night, 365 days a year!
They understand that caring for your pet companion can be expensive and want to help you receive quality products that your pet needs, at the best price, all year round. That is why they supply a variety of over-the-counter pet products at the most affordable prices.
---
Sale Items Save today on natural pet products. We offer a 5% introductory sale price for one month after a product launches. We also offer big savings throughout the month that will also be found on this page. Enjoy the spectacular savings.
Looking for even more savings? Visit our clearance page for a full list of items specially priced to move! With deals like this, quantities won't last, so check out our clearance items today.
---
Wouldn't You Rather Learn How to Deal with Minor Dog Health Problems BEFORE they Become Major Ones?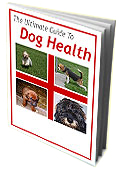 Ultimate Guide to Dog Health
---
---
Just added a New page that you can use to send

Free Ecards to all of your friends.

Dog Calorie Calculator by TrainPetDog
---
Also don't forget about

Free Dog Coloring Book and Other Free Stuff at Dog First Aid 101

---
Please consult the following website if you require further assistance, help, advice or if you have any questions relating to pet first aid.
---
If you want to make a website like Dog-First-Aid-101 take a look at this video it will show you how. Video of the day


---
Comments? Ideas? Feedback?
We want to hear from you with your complaints, compliments or suggestions. That's the only way we can make It's A Dog's Life YOUR Dog's! more useful for you.
Have something to tell us? Click on Reply in the menu and tell us what you think!
---