Hi



Save your dog's life with dog first aid!

Whether you're new to dog ownership, or a long-time friend; have a puppy, or care for a senior dog; own a purebred, or a cross from the rescue center; regardless of your situation, your dog is precious to you.

You want only the best for your dog, just like you want the best for every member of your family. This newsletter has the Dog Information and resources you need to give your dog the best -- the best of health, the best of safety, the best of lifelong well being.

With some prevention and some planning, you can keep your dog healthy and safe, for years to come.

If you find this newsletter useful, please do a friend and us a big favor and "pay it forward." Forward this issue to all the dog lovers you know. Dogs everywhere will thank you for it!

If a friend passed this issue along to you, and you like what you read, please subscribe by visiting...

Dog First Aid 101

You and your dog will both be glad you did.
---
I need your help.
I have a page on the website that is for my readers to tell their dog story. My hope was to have people tell their story so it might help someone else with the same problem. But lately there has not been any activity on this page. Could you please look at this page and contribute something if you can.
Thank You
Click here to share your dog story
Table of Contents
Dog Stocking Stuffers For Dog Lovers
---
It's holiday time and it is hard to believe that Thanksgiving is almost here!

Where does time go?

Many folks have already started their holiday shopping (I'm not one of them by the way - I'm more of a last minute guy).

For those of you who are great planners - here are some great stocking stuffers to help make your holiday shopping a little easier

Here are some of my favorite stocking stuffer for Dogs and Dog Lovers:

Holiday Treats: holiday music - specifically created to calm pets and their owners -

I love this CD. This amazing music CD is made by the same people who brought you Disney's Baby Einstein. This beautiful music was designed to help pets relax (but you'll love it, too). This amazing music CD is full of your holiday favorites - in fact, you'll love it as much as your pets do! The Holiday Treats CD also makes a great dog stocking stuffer. Nootie Shampoo & Daily Spritz -

This is the best darn dog shampoo and spritzer we have used. Smells great - five great fragrances that mimic the wonderful scents produced by Bath and Body Works. Moisturizes skin and coat. Daily spritz keeps that wonderful scent between washings. Nootie Shampoo & Daily Spritz smells so good, you'd use it yourself!

Stuff a little safety inside your dog's stocking this year! We hope this product helps saves some dogs' lives. Everyone has heard those sad stories about people who left their pets alone inside the car "for a few minutes" - only to return and find tragedy. The sad truth is, heat or cold can quickly claim the life of your precious pet in a matter of minutes. Too Hot for Spot is a convenient static cling window decal thermometer that gives you real-time information about the temperature inside your vehicle.

Humorous Beer and Wine Bottles Dog Toys -

These fun toys are called Silly Squeakers and they are a great way to spice up the holidays. These are funny - instead of Corona - this beer is Cataroma; instead of Heiniken - the label says Heini Sniffin'. And you know the wine Kendell-Jackson? This doggy version is Kennel Relaxin'. Check these out. Very cute and funny!

Pets Salvador Big Head Dog Chew Toy -

These adorable aliens have big, cushy heads that retract at the push of a button that's located (where else?) inside their great big heads. 5 whacky aliens - each has its own unique style and outrageous personality. The Big Heads toys have landed and your dog will go to eternity and beyond to chase them!

This toy is just plain fun. It has a ball on one end with a long tongue on the other. You can toss it around or just let your dog play with it. It looks so comical when your dog holds the Humunga Tongue in his mouth because it looks like he's sticking out his tongue - and it's a HUGE tongue! This is a great gift and a very fun dog stocking stuffer.

Charming Jingle Bells Party Collar -

Fun, fun, fun! What the well-dressed pet will be wearing for the holidays! Your pet will be dressed to the nines with this festive Jingle Bells Party Collar! Handcrafted of brightly colored red and green chiffon ribbons with shiny holiday jingle bells that really work, all attached around a fully wrapped elastic collar that fits snuggly around your pet's neck. Great accessory for holiday photos and parties! 4 sizes: S (10"), M (12"), L (14") and XL (16")

Dog Sitter DVD - The DVD Your Dogs Love to Watch -

This video was specifically designed to stimulate your dog by making him feel as if he's outside, surrounded by the sights and sounds of nature. It's made just for dogs with some sounds only they can hear. It will keep your dog happily entertained when you're gone. Your Dog Sitter DVD Fun Pack also comes with some tasty Bow Wow Microwave Popcorn in 3 pup-pleasing flavors.

I hope these Dog Stocking Suffers give you some great ideas to help you shop for your dog!

It's A Dog's Life — YOUR Dog's!
---
Who else wants their dog to be well behaved around people and other dogs?

AND have them obey all of your house rules...... even when you're not around!

If your answer is "Me!" then read this free ebook because you're about to discover how to put an end to your dog's behavior problems once and for all using proven techniques that give you immediate results...
---
---
---
Can You Treat Your Pet
When They Need Your Help The Most?
---
Pet insurance dramatically reduces the costs of large veterinary bills, ranging from emergency care after an accident and cancer treatment to preventative check-ups and care including vaccinations.
Take a minute now and get a free quote.
---
Total Pet Supply is one of today's most trusted online pet stores and is available to assist you day and night, 365 days a year!
They understand that caring for your pet companion can be expensive and want to help you receive quality products that your pet needs, at the best price, all year round. That is why they supply a variety of over-the-counter pet products at the most affordable prices.
---
Wouldn't You Rather Learn How to Deal with Minor Dog Health Problems BEFORE they Become Major Ones?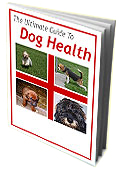 Ultimate Guide to Dog Health
---
Also don't forget about

Free Dog Coloring Book and Other Free Stuff at Dog First Aid 101

---
If you want to make a website like Dog-First-Aid-101 take a look at this video it will show you how. Video of the day


---
Comments? Ideas? Feedback?
We want to hear from you with your complaints, compliments or suggestions. That's the only way we can make It's A Dog's Life YOUR Dog's! more useful for you.
Have something to tell us? Click on Reply in the menu and tell us what you think!
---