Hi



Save your dog's life with dog first aid!

Whether you're new to dog ownership, or a long-time friend; have a puppy, or care for a senior dog; own a purebred, or a cross from the rescue center; regardless of your situation, your dog is precious to you.

You want only the best for your dog, just like you want the best for every member of your family. This newsletter has the Dog Information and resources you need to give your dog the best -- the best of health, the best of safety, the best of lifelong well being.

With some prevention and some planning, you can keep your dog healthy and safe, for years to come.

If you find this newsletter useful, please do a friend and us a big favor and "pay it forward." Forward this issue to all the dog lovers you know. Dogs everywhere will thank you for it!

If a friend passed this issue along to you, and you like what you read, please subscribe by visiting...

Dog First Aid 101

You and your dog will both be glad you did.
---
I need your help.
I have a page on the website that is for my readers to tell their dog story. My hope was to have people tell their story so it might help someone else with the same problem. But lately there has not been any activity on this page. Could you please look at this page and contribute something if you can.
Thank You
Click here to share your dog story
Table of Contents
Dog Proof Your Holiday Christmas Tree
---
I hope you had a wonderful Thanksgiving with those who are important to you.

For many, it's time to put up the holiday tree. I'd like to give you some tips to help make your tree pet safe.

If you have dogs you may realize how interested and curious they can be. Even though the tree is beautiful - it is full of possible dangers. 
I'd like to help prevent any problems your dog might have with the tree.

If you are thinking about putting up your tree, or if you just put it up, take a minute to look over the following pet safety tips for your holiday tree.

1. Choose the Right Spot.

2. Prepare the Area.

3. Secure the Tree.

4. Hide the Cords.

5. No Hooks.

6. Choose Safe Ornaments.

Thousands of pet injuries related to Christmas trees are treated every year. I have read on the internet everything from dogs eating the pine needles and chewing on cords to trees actually falling over on them.

It is really amazing to consider all the different problems that a holiday tree can cause. And it's even more amazing how our adorable pets just seem to seek out that trouble!

Last year I heard about an 8-year-old dog that had never bothered the tree before, but he chewed on a glass ball on one of the branches and cut his mouth badly.

He never bothered the tree in 8 years, and then boom - he decided to do something silly. If it happened to this dog, it could happen to your dog. So please make sure your tree is safe. The last thing you need during the holidays is an emergency trip to your vet.

It's A Dog's Life — YOUR Dog's!
---
Who else wants their dog to be well behaved around people and other dogs?

AND have them obey all of your house rules...... even when you're not around!

If your answer is "Me!" then read this free ebook because you're about to discover how to put an end to your dog's behavior problems once and for all using proven techniques that give you immediate results...
---
---
Can You Treat Your Pet
When They Need Your Help The Most?
---
Pet insurance dramatically reduces the costs of large veterinary bills, ranging from emergency care after an accident and cancer treatment to preventative check-ups and care including vaccinations.
Take a minute now and get a free quote.
---
Total Pet Supply is one of today's most trusted online pet stores and is available to assist you day and night, 365 days a year!
They understand that caring for your pet companion can be expensive and want to help you receive quality products that your pet needs, at the best price, all year round. That is why they supply a variety of over-the-counter pet products at the most affordable prices.
---
Wouldn't You Rather Learn How to Deal with Minor Dog Health Problems BEFORE they Become Major Ones?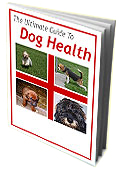 Ultimate Guide to Dog Health
---
---
Also don't forget about

Free Dog Coloring Book and Other Free Stuff at Dog First Aid 101

---
If you want to make a website like Dog-First-Aid-101 take a look at this video it will show you how. Video of the day


---
Comments? Ideas? Feedback?
We want to hear from you with your complaints, compliments or suggestions. That's the only way we can make It's A Dog's Life YOUR Dog's! more useful for you.
Have something to tell us? Click on Reply in the menu and tell us what you think!
---