Hi



Save your dog's life with dog first aid!

Whether you're new to dog ownership, or a long-time friend; have a puppy, or care for a senior dog; own a purebred, or a cross from the rescue center; regardless of your situation, your dog is precious to you.

You want only the best for your dog, just like you want the best for every member of your family. This newsletter has the Dog Information and resources you need to give your dog the best -- the best of health, the best of safety, the best of lifelong well being.

With some prevention and some planning, you can keep your dog healthy and safe, for years to come.

If you find this newsletter useful, please do a friend and us a big favor and "pay it forward." Forward this issue to all the dog lovers you know. Dogs everywhere will thank you for it!

If a friend passed this issue along to you, and you like what you read, please subscribe by visiting...

Dog First Aid 101

You and your dog will both be glad you did.
---
I need your help.
I have a page on the website that is for my readers to tell their dog story. My hope was to have people tell their story so it might help someone else with the same problem. But lately there has not been any activity on this page. Could you please look at this page and contribute something if you can.
Thank You
Click here to share your dog story
Table of Contents
Getting Ready For Spring With 3 Helpful Dog Walking Tips
---
We've all been in the park or walking down the street and seen dog owners getting dragged relentlessly by their eager little friends, tugging against their leashes as if the nearby bush or park bench is the most enticing thing they've ever smelled. If your dog does this too, you are probably frustrated with trying to teach them how to heel properly and walk on a leash like a well trained dog. You might even dread your daily walks, which is a shame because as spring approaches the weather is perfect for daily outings.

Tip #1 – Get Rid of Choke Collars

Choke collars tighten painfully around your dog's neck when he tries to pull away, and I don't feel like pain is the right way to train your pup to do anything. Instead of enjoying the experience he'll only learn to do the right thing out of fear, and it's just as easy for him to forget that training once he realizes that you're no longer using a choke collar. The goal is to make the dog want to walk at your side, not make him fearful of doing anything else. Pretty soon he'll dread the daily walks just as much as you, and that's no fun for anybody!

Tip #2 – Use a Normal Leash

Retractable leashes are great tools for walking with your dog, but not when you're trying to train him to understand that he can't just go as fast as he wants all the time. When you're Dog Training your dog to walk by your side, use a fixed-length leash and showcase that you are in charge of how far he can go. Use a single word like "walk" to give him a verbal command that he can learn. This will help him understand that you want him to stay close to your side.

Once your dog learns to heel and walk next to you, you can switch out the fixed-length leash for a retractable one, but always be in control of the amount of give you're letting out, and make sure he will always return to your side with a simple command.

Tip #3 – Walk the Other Way

This is a strange little technique that seems to work wonders on untrained dogs. As soon as your dog starts pulling, simply turn around and walk the other way. After 2 steps, go back in the direction you were originally walking. When he stays by your side, give him a treat and some positive words. As soon as he starts pulling again, repeat the maneuver. He'll learn in just a few days rather than weeks.

It's A Dog's Life — YOUR Dog's!
---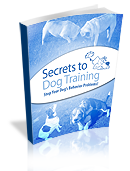 Secrets to Dog Training - Dog Training To Stop Your Dog Behavioral Problems!

---
Also don't forget about

Free Dog Coloring Book and Other Free Stuff at Dog First Aid 101

---
If you want to make a website like Dog-First-Aid-101 take a look at this video it will show you how. Video of the day


---
Comments? Ideas? Feedback?
We want to hear from you with your complaints, compliments or suggestions. That's the only way we can make It's A Dog's Life YOUR Dog's! more useful for you.
Have something to tell us? Click on Reply in the menu and tell us what you think!
---